Extracurricular Activities
The college celebrates Talentia, a spectacular interclass competition comprising of sports and literary events, in addition to several cultural and fine arts activities including music, dance, and drama, once a year. In addition, our students participate regularly at inter-collegiate sports and cultural contests conducted by other frontline medical colleges and Universities. The students within the campus have access to essential sports equipment, indoor and outdoor games, and a well-equipped music room. When the student needs a break from campus life and the stress of medical education, the city of Puducherry offers numerous stress busters. A relaxing walk along the seaside promenade and an exhilarating boat- ride in the backwaters are some of the popular options. Puducherry is home to many a historical temple and pious worship places and these contribute immensely to the spiritual growth of the young professionals that assumes greater relevance in the present day scenario synonymous with stress and internal strife. In addition to the core medical curriculum that they receive from our esteemed faculty, our students also do get exposed to extracurricular activities. MGMCRI firmly believes that the promotion of special talents and participation in extracurricular pursuits are vital components that contribute immensely to overall personality growth and development. In this regard, MGMCRI leaves no stone unturned.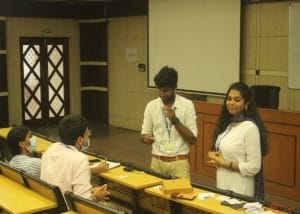 After reopening of college in offline mode, the secretaries of Literary and Debate Club conducted L&D week called Ilakkiya. The events were conducted in lecture
Read More »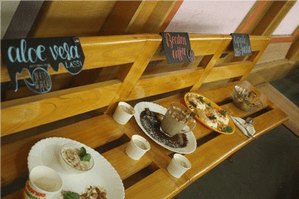 wCreativita 2021 was conducted by Fine Arts club from the 30th of August, 2021 to 7th of September, 2021. The following events were conducted by
Read More »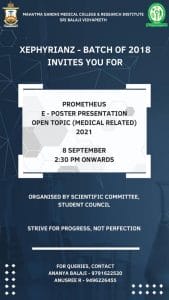 The scientific committee of the student council conducted an E- poster presentation competition on the 8th of September 2021 open to all batches of MGMCRI.
Read More »