All students who join MGMCRI start their day 1 with the course commencement ceremony followed by the week-long orientation program. The elaborate Orientation Program for the first year students helps to allay fears and dispel anxiety and concerns in the minds of the freshers. This program includes an interactive session, wherein the new students and their parents are permitted to discuss their concerns with senior administrative officers. A presentation on medical student's well-being and stress management is a component of this program. Students welfare receives top priority as MGMCRI realizes that the maintenance and promotion of the physical and mental health of the student community are as important as acquiring knowledge and skills.
Through this program students get acquainted with each other, faculty and staff and come to know about curriculum and campus, resources, etc., Apart from the normal, check-in process orientation program includes various student-centric sessions like a campus tour, yoga sessions, e-learning, and electronic resources, a career advisory program and many more.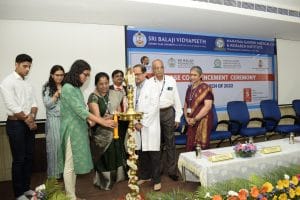 The batch of new students were welcomed to the college by the members of the student council by giving them roses, chocolates and greeting cards.
Read More »