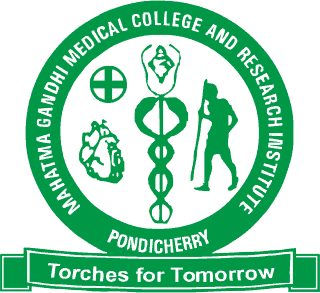 The Mgmcri College Anthem: It Kindles the Spirit of Service, Destined to Serve the Sick and Weary​

The MGMCRI College anthem titled "Torches for tomorrow" acts as a great reservoir of commitment, dedication and devotion, all aimed towards the noblest of noble professions, viz., a medical doctor. The anthem has been composed (Lyrics and music) by Prof. Sivaprakash B, the head of the Department of Psychiatry and rendered by the alumni. Soon after admission into the course, each student will receive an audio compact disc (Audio CD) of the college anthem that extols the inherent tenets and virtues of the alma mater.  The lyrics of the anthem are carefully constructed in a manner so as to inspire the young and aspiring professionals, besides infusing the institutional spirit for perpetuation among the teachers and the taught. At official functions, the anthem is played back or even performed live ( as during landmark occasions), by the students' choir.
TORCHES FOR TOMORROW, the motto of MGMCRI is vividly captured in letter, spirit, and action in the College anthem.